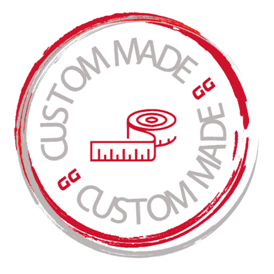 From the beginning our philosophy has been to create and build horizontal wrapping machines that adapt to the needs and products of the customer and not vice versa.

We seek the solution that others are unwilling to seek to meet the production needs of our customers. Surely this is not the easiest way to go, but the best if you want to continuously develop, update and improve your product to make it available to your customers.
Customizations and therefore Custom has always been a priority for GG Macchine.
Over time this way of thinking and acting has become our strength.
Famous French Group
Industry type: Furnishings
Our company has become a wrapping machine supplier for many companies that are part of the French group.
The Saint Gobain Group pays great attention to safety, therefore having chosen us as their suppliers is the result of maximum attention and compliance with the safety standards that our company implements on a daily basis.
For them, we have developed a project that makes us extremely proud.

Through our commitment and passion and, above all, our skills, we have managed to please the customer by providing the packaging solutions required.
We were able to develop a system for the welding of 4 layers of air bubble film, air bubbles Ø20mm, thickness 150 microns each, for a total of 600 microns.

This allowed the customer to replace the old packing system, composed in part of corrugated cardboard and in part of bubble film with substantial economic savings.
Famous Turkish Company
Industry type: Electric Appliances
A world-leading manufacturer of low voltage busbars, from 25A to 6300A.
This project was perhaps our greatest challenge and undertaking so far.
The concept of packaging is the cornerstone of all our work, and the manufacturing of the machine for this company required all our flexibility and the application of engineering and mechanical skills, which was possible only thanks to our 30 years of experience.
We designed a machine that allows a product to be wrapped not with conventional stretch film but with a special type of Masking Tape.

We developed the main base groups of our machines, from the cutting unit to the swivel unit, to enable the use of masking tape, also focusing in particular on high production capacity, which the customer necessarily requires in order not to slow down production. (high production capacity machine).
A successful challenge that has further enriched our wealth of knowledge and experience.
Famous Italian Company
Industry type: Painting Aluminium Bars
A leading company in wood, marble and fancy decorations on metals and materials suitable to resist to temperatures of 200°C. In 2012, the company contacted us to ask us if we were capable of designing and manufacturing a wrapping machine that can pack aluminium bars at a speed of 40/45 metres per minute.

Thanks to our passion, study and expertise, we were able to deliver a "double" system to this customer, which respected the company's production needs in terms of production capacity and finished packaging quality.
This system helped us lead the way in the construction of end-of-line systems inserted in automatic extrusion lines, which, today, have become a particularly important sector for our company.
Famous Group Italian
Industry type: Manufactured in Rubber
A leading manufacturer of rubber hoses for very high pressures.
We have manufactured wrapping machines suitable for wrapping hose bundles.
A fully custom-made machine, in which, once again, our flexibility and study of customised solutions have allowed the end customer to be totally satisfied with our machines. In fact, the customer then commissioned us to manufacture more machines to be placed in different sites of the group.

Back in 2005, their need to open the spirals of stretch film without using sharp objects to avoid damaging the surface of the product inspired us to create our exclusive "THREAD PACKAGE OPENER" opening system.